Rating: ????????????????
Price: ????????
217 E Georgia St, Vancouver, BC V6A 1Z6
Phone: (604) 569-8192
http://www.fatmaonoodles.com/
Fat Mao ("Fat Cat" in Cantonese) Noodles is Thai/Chinese restaurant located in the historic China Town of Vancouver. Like the name suggests, Fat Mao serves bowls of soup noodles and other small plates infused with Thai and Chinese flavors. It is one of the stores operated by Angus An, the Maenam on W 4th Ave.
The primary design of this store is the clever use of old school Japanese anime, slightly awkward because I was having a hard time connecting Thai food under a Doraemon, Maneki Neko theme… but being said that, maybe the owner loves comic/anime? It's called Fat Mao after all, and we know it's a Chinese place because Thai doesn't call cats as "Mao". ????‍♂️ On the contrary, my wife and I find the menu and the shop cute.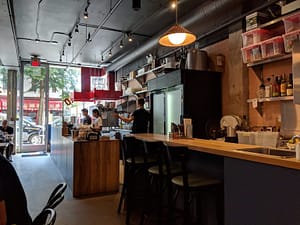 The shop is no bigger than an average cafe, with a open kitchen on one side and seating for about 30 people on the other side. It is minimalist and seems to be catered for fast table turn-over. The customers can see how the noodles are prepped and served. The servers are not shy to talk about just about anything Sci Fi ????. Based on the equipment there and limited space and a big pot of stuff simmering on the stove, we suspected this could be a "boutique" eatery with limited selections. The store wasn't busy at 1pm on Sunday, we were seated immediately.
Since coming back from Asia, my pallette is still used to the Thai cuisine back there. I was really looking forward for some Thai cooking with Vancouver-fresh ingredients. The menu has 4 pages: 2 pages of drinks and dessert, 1 page of appetizers and 1 page of noodles. I really loved the fat cat featured in the menu slicing off ingredients. As a cat owner, I share the joy and cuteness… don't we all love cat videos?
Fat Mao offers 5 main soup noodles, each are distinctively different than the others; even the waiter was telling us that most people chose to order different bowls to share. Since my wife and I were able to order 2 bowls, we are definitely coming again to try the rest.
We've ordered the Braised Duck Noodles (in vermicelli), Coconut and Mushroom Noodles (vermicelli), Thai Fried Egg Salad, and Biota Kombutcha. We noticed they have boxes of green and red Thai tea mixes from Chatramue, we skipped the Thai Milk tea because I can make them at home.
The salad came in first, we were told to chop the salad as the eggs were in the bottom and we wanted to mix in the flavors. Wife loved the avocado and I loved the Chinese celery. I couldn't really tell the exact seasoning because they were blended together, there are definitely some Mirin and soy seasoning. The overall of the salad tasted fresh and refreshing, it was great when the weather was hot like yesterday.
The Braised Duck Noodles came in a black broth (typical Chinese way of doing it). A whole duck leg was in my bowl with bean sprouts. It was tender and not over cooked, the meat did not fall out immediately. Flavor wise, it was flavorful inside and out. The duck meats must have been braised in broth for hours before serving. The broth tasted like herbal, and it has a dominating sweetness to it. I suspected MSG was used but I was wrong, I didn't have the MSG reaction like I normally would have. The Braised Duck was a heavier taste bowl and the green bean vermicelli was able to absorb the broth and I was able to enjoy the noodle and the broth together.
The coconut and mushroom was a "tom kha" based, it was a muddy looking soup with strong flavor of coconut milk in chicken broth. This was a lighter bowl compare to my Braised Duck. I also enjoyed this bowl because it came with enoki, baby corn and other Asian mushrooms. The mushrooms acted as sponges and absorb the chicken broth, when ate together with the vermicelli, the burst of coconut just filled up the pallette. Both of the broth tasted so different and if I had the stomach for them, I would drink them all.
My first impression of hearing the name "Fat Mao", I was associating it with some westernized Asian noodle shop. Without knowing the genius behind it, this is one restaurant that could easily be missed. Our meal came to about $51 after tips, it was not a cheap lunch. It costed about the same as other high-end Ramen eateries in town. Nonetheless, Fat Mao Noodles is worth trying because it offers something unique (5 different flavors of noodles). The fresh ingredients, the Thai/Chinese cookery techniques designed by a talented chef; we are going to try the other eateries. Our dining experience in Fat Mao was also an enjoyable one with minimal waiting, relaxed, non-pressured environment. If you are into great tasting noodles and wanted to get away from Ramen or Hong Kong style combination noodles, Fat Mao Noodles is worth considering. It is also located in China Town, and a little bit of shopping for cheap grocery may worth the trip.