Rating: ????????
Price: ????????????
1596 Johnston St, Vancouver, BC V6H 3R9
Phone: (604) 682-6681
We like to go to Granville Island regularly to check out what's new. It is probably one of the very few tourist spot where genuine arts and crafts exist. There are also a few great eateries there and Edible Canada has been on our list for several years, but it seems that wife doesn't like it as much as before.
It is about 11:15am, outside of the restaurant there are a few tables worth of people lining up by the hostess already, we thought the place is already packed, not. The line for the hostess is just slow, it is slow that some people is wondering if we are in the line to get into the restaurant. The hostess looks tired and less enthusiastic to get the line moving, I still give her a C+ for putting up a smile when it is our turn.
Our server comes by to greet us about 5 to 6 minutes, that gives us a lot of time to look through the menu. Surprisingly, we skip the drinks and order the food only. I order the lamb meat ball and wife orders the avocado benny, we also have an order of sourdough with whip butter.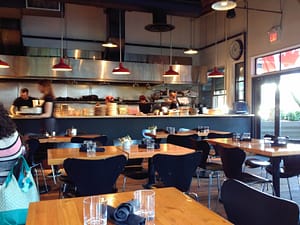 The restaurant is inspired with heavy west-coast accent, the use of wood pillars, and metal rivets binding is a common building design in Vancouver (schools, government likes this design). There is an open kitchen on the side where the chefs work and a gift shop at the end that sells many local gourmet foods.
Our foods comes to us before we even realize, they look quite attractive and delicious. Mine comes with 2 meat balls, tortilla and 2 eggs, it serves with feta cheese and a tomato based marinara sauce. Wife's benny is… a avocado toast on a sourdough, with roasted potatoes and tomato. There is nothing wrong with the food, it's just… not memorable. It's delicious but not spectacular (compare to Fable), I wish my dish could come with some pasta, I am sure it goes well with the sauce and meat balls. Wife says the poach eggs are done excellent, the cold avocado and the thick sourdough bread is where the dish fails. The poach eggs on top of the cold avocado on top of the warm bread just make the benny at about room temperature, the bread simply becomes harden to a point where it's not edible. Our side order of sourdough bread is good when it's hot, once it is cooling down it is quite hard. We have to forget about the last piece because it's just hard as rock.
Our bill comes to about $50 for 3 things, I would say I am not quite satisfy for the money spent. It's not bad food, it's just not memorable. Service wise, it's adequate; again not memorable. To put it to perspective, the food in Edible Canada makes me feel like I am eating at White Spot, and I am expecting more.
Edible Canada has been on our list of restaurants that we go regularly, it seems over the years there are other restaurant that out-done them with better quality food, price and service. The foods look great, and taste is not bad, just not spectacular. The slowness of the hostess, the less-than-attentive service really takes marks off our checklist. I hope Edible Canada could make a come back by offering some memorable experience next time.