Rating: ????????????????????
Price: ????????????
Address: 4611 Kingsway, Burnaby, BC V5H 4L3
Phone: (604) 435-5777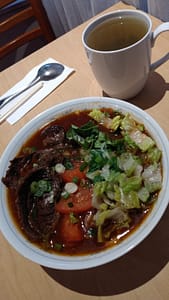 This is one of the best place for Taiwanese beef noodles in Vancouver. I always wanted to come back.
The tomato beef noodle ($12.99) is one of the lesser famous dish in the menu. The broth is slightly thick, probably made with tomato pastes and a lot of beef bone marrow. It is sweet on the first sip and become slightly spicy at the end of the tongue. The complicated flavor makes this a great adventure. I can't help to leave an empty bowl at the end. My stomach feels very warm and hearty after that.
From the size of the operation, the place looks like a family business as I overheard the owner's conversation with her friend. The menu therefore is rather limited, but none are bad dishes. It took me a few visits to cover half the items there.
The other thing that they don't advertise heavily is their tea selection. They have a good selections of traditional Chinese tea. The oolong tea ($6) they have is exceptionally high-end, even steeped in a mug for 1/2 hour, the flavor is sweet and crisp. It doesn't give the over-steeped taste. It has a green, fresh, flowery smell. They cost as much as a cup of Latte but they are worth it. You can probably ask for refills if you have time to sit and chat with the owners who are into Chinese teas.
I don't mind paying for good food, this meal is about $25 after tips; it is on the higher end for beef noodle but I fully support local businesses and will keep coming back because of the little details they put into the food.
Side note: The conversation I overhead between the owner and her friend there has to do with them using organic vegetables in the shop. Part of the conversation is that the owner has to make some changes in ingredients due to the high cost of certain organic vegetables; that makes me wonder if it is why their dishes fetches a slightly higher prices?